Video Games/9 August 2012
God of War Collection
Sony announced a God of War collection entitled Saga, which will feature these five games.

This week, in The Hole
This week's cyber fight on Nukapedia sees Deputy Weld face off against Yes Man in the Semi-Finals 1. Drop into the Pitt to Vote!

And, speaking of Fallout, did you know that September 30 marks the 15th anniversary of the first game? We're rounding up ideas for celebrating. Head on over to Nukapedia to chime in.

Dishonored: A-List Voice Cast
Bethesda has been rubbing elbows in Hollywood. The A-list talent so far lined up to voice Dishonored includes Susan Sarandon, Lena Headey, and John Slattery. Click here for 189 pages on Dishonered info.

Army of Two: The Devil's Cartel
Thought Army of Two: the 40th Day was pretty gritty? Think again. EA announced a new Army of Two for PS3 and Xbox 360 called The Devil's Cartel, which they are calling "more intense, mature, and grittier." Decide for yourself.


Some pretty cool new trailers dropped last week. The latest for Pokemon: Black and White Version 2 gives us a deeper look at the characters and storyline. Discover it, along wit the preceding trailers, here. Bethesda released an interactive trailer for Dishonored- choose one of three daring escapes. Another interactive trailer was released for the fifth installment in the Crysis series- giving you the option to control modes. And you can get your beta on with the new Planetside 2 trailer.
Games We're Drooling Over
Comic-Con 2012
Nintendo
Role-Playing Games
FPS
Video of the Day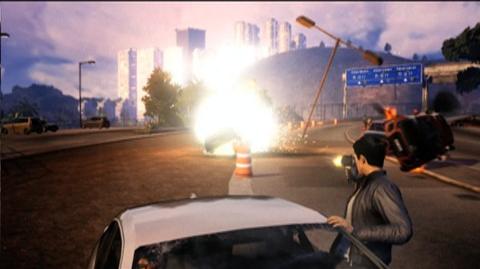 Investigate the underworld of the Sleeping Dogs Wiki.
Our Favorite Videos
Popular videos
01:35

Darksiders II (VG) (2012) - Know Death trailer

02:11

Borderlands 2 (VG) (2012) - Wimoweh trailer

01:11

Death Rally (VG) (2012) - Launch trailer

00:31

New Super Mario Bros. 2 (VG) (2012) - Coin Rush trailer

01:30

Gears Of War Judgement (VG) () - E3 2012 trailer

01:28

Deadlight Launch Trailer HD

03:50

WWE 13 (VG) (2012) - Live trailer

07:15

NEW Halo 4 Trailer! - Microsoft E3 2012 Press Conference

02:12

Sleeping Dogs (VG) (2012) - E3 2012 trailer

01:44

Quantum Conundrum (VG) (2012) - E3 2012 trailer

01:36

Persona 4 Arena (VG) (2012) - E3 2012 trailer

04:41

Star Wars 1313 Gameplay - E3 2012

01:44

Skyrim Dawnguard - E3 2012 Skyrim Dawnguard Official Trailer gameplay dlc Expansion E3 2012 add on

09:25

assassins creed 3 official trailer e3 2012

02:11

Dead Space™ 3 Official Announce Trailer - E3 2012

03:21

Metal Gear Rising Revengeance 'E3 2012 Trailer' TRUE-HD QUALITY

03:12

Dishonored - E3 2012 Exclusive Gameplay Trailer

06:26

E3 2012 Splinter Cell Blacklist - E3 Gameplay Trailer

02:12

Crysis 3 E3 2012 Trailer HD

02:53

Castlevania Lords of Shadow 2 - E3 2012 Debut Trailer HD

03:50

E3 2012 - Kingdom Heart 3D KH 3D E3 2012 Trailer

02:34

E3 2012 Watch Dogs - E3 Announcement Trailer

01:41

Battlefield 3™ Premium Launch Trailer Official E3 2012

00:30

NHL 13 (VG) (2012) - Road To NHL 13 Part 1

02:25

TERA (VG) (2012) - Journey trailer

Devil_May_Cry_HD_Collection_%28VG%29_%282012%29_-_Launch_trailer

01:49

Street Fighter X Tekken (VG) (2011) - Street Fighter X Tekken Cinematic Trailer
The Big Question
Which likely gamescom title are you most psyched for?
Top Gaming Wikis
Here are the top 10 Video Game wikis based on wiki activity, breadth of content and awesomeness.